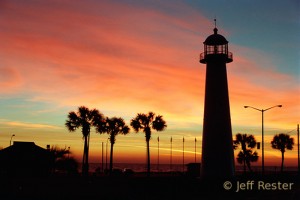 The Biloxi lighthouse stands proudly in the median of Highway 90 along the Mississippi Gulf Coast in Biloxi. It is said its the only Light house in the middle of a highway.
National Register Status: LISTED; Reference #73001012
Name of Listing: BILOXI LIGHTHOUSE
Standing 65 (some places say 61) feet tall the cast iron landmark was constructed by the Murray & Hazelhurst Co. in Baltimore, MD. It was shipped to Biloxi by railroad in 1848 and erected.
A rumor was started that it was once painted black to mourn the death of Abraham Lincoln in 1867. It was coated with tar as a rust preventative.
Painted white in 1869 and electricity was connected in 1926.
The city of Biloxi took control / possession of it from the US Coast Guard in 1968 and it has been placed on the National Register of Historic Places.
The lighthouse is one of 4 National Historical Landmarks surviving out of 10 listed in Biloxi.
It had some minor damage from Hurricane Katrina August 29, 2005.
Tour Information (Possibly suspended due the Hurricane Damage in the Area)
Open to the Public:
OPEN DAILY AT 10 AM EXCEPT SUNDAYS; $2 ADULTS AND $1 FOR CHILDREN
Access: CITY PARK/U.S. 90 AT PORTER AVENUE
Phone: 228-435-6244
See some other sites for more pictures.
http://www.southpoint.com/states/ms/mscoast/mscoast1a.html
Inventory of Historic lighthouses:
http://www.cr.nps.gov/maritime/light/biloxi.htm