by Staff

Katrina Memorial Biloxi,MS
The Katrina Memorial to hurricane victims was unveiled at a candle light vigil at Biloxi's Town Green on Highway 90. Watch Preston Sharp's opening comments
Watch Preston of Extreme Makeover opening speech.
Paul DiMeo answesr "Why are you doing this?"
See more detailed photos of the Memorial on our attractions page (here)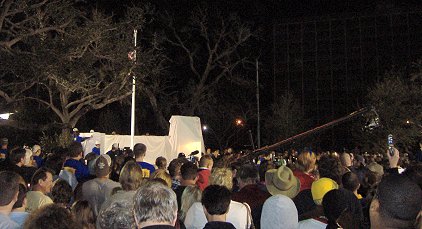 Constructed by the "Extreme Makeover Home Edition" teamed up with local officials to create the memorial.

Standing 12 feet tall, about the height of the storm surge from hurricane Katrina at the Town Green. The Memorial has a colorful tile inlay of a wave, and a glass enclosed case with numerous items.  Also announced at the unveiling was that once the list of victims is officially complete, their names will be engraved on the memorial.
 
 

A large crowd listened to the speaker

 Preston Sharp as he read a list of over 50 victims names.
 

In stark contrast to the Memorial new look was the damaged buildings and piles of debris surrounding on all sides.  The vacant damaged Santa Del Maria complex to the East, and the Hard Rock Casino to the south.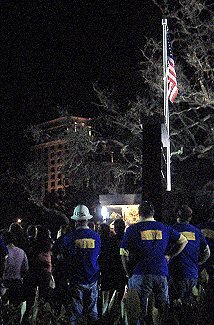 Workers from Extreme Makeover watch the ceremony.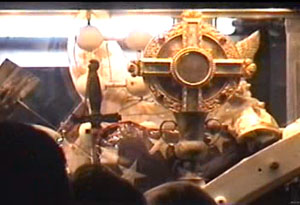 A view inside the memorials enclosure.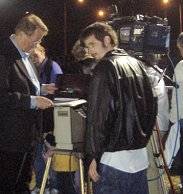 Several media representatives such as WLOX was on hand to film the event.