Ship Island, located off the coast of Mississippi,is part of the Gulf Island National Seashore.
Administered by the National Park Service.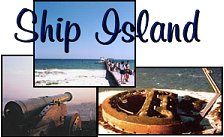 One of the many ever changing barrier islands along the northern Gulf of Mexico Ship Island has a long history.  Named in 1699 by French explorers, allowing them a protected deep water anchorage. Considered the Plymouth Rock of the Gulf Coast as many colonists took their first steps in America there.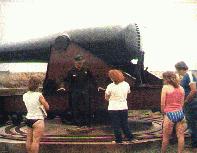 Located on Ship Island are clean beaches and somewhat larger wave action than on the actual coastal Mississippi beaches.  Ship Island was cut into 2 separate islands by Hurricane Camille. Damage done by Hurricane Katrina has also modified the island.
One place to visit is Fort Massachusetts.  Extremely interesting for the entire family from its cannon emplacements to its water collection techniques.
 Used during the war of 1812 British ships rendezvoused near the island. In 1862 it was the base for Admiral Farragut's Union fleet to attack New Orleans and Mobile. Use also as a prison for Confederate Prisoners of War.Tours are available from March – October